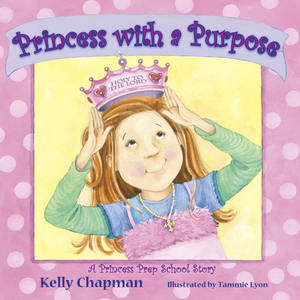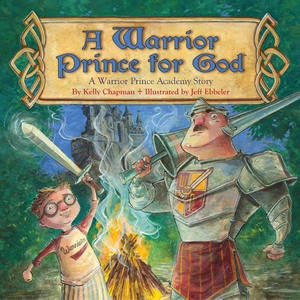 I found these 2 books a little over a year ago - I think. It was bought during a time that is all a blur and no I was NOT using drugs - altho some did suggest the idea.
Anyway, I absolutely love these books. It totally gives a different perspective on what it means to be a "princess" and what it means to be a "warrior". Almost every girl loves princesses and almost every boy loves "fighting". These books also lay out the gospel message for our children to hear in an unique way.
Maggie absolutely loves Princesses and while she was in treatment for cancer I would tell people that she can like Princesses but I refused to let her act like one. This is still a battle that we are slowly conquering. Maggie enjoyed being waited on and getting almost everything that she wanted (what we typically think of as Princess attitude) and that was fine when she was miserable. But now she is definitely not miserable and to have something concrete that teaches little girls how to be GOD's Princess is something I love.
Jared LOVES to fight with his guns and light sabers etc - all normal boy behaviors. But I love how this book takes that normal boy behavior and shows him how to fight Satan's ploys and temptations.
What makes it better is that the kids love them as well.
Here is a link to their website:
http://royalpurpose.com/
They even have a whole week long camp/vbs type thing that looks super cool!
http://www.jesusstorybookbible.com/
This is the Bible that I read from at Maggie's Party. We were given this book as a gift during Maggie's treatment. God's "Never Stopping, Never Giving Up, Unbreaking, Always and Forever Love" is discussed in each chapter. It also discusses how it is all a build up to Jesus' birth, death and resurrection. I love reading it to my children because it speaks to me and often I am in tears as I read it to them.
Last but not least..... Financial Peace Jr.
We purchased this a couple of months ago and have just gotten around to implementing it. Yeah. I'll explain more in a sec. Ok, 4 years ago or so Rod and I went thru Financial Peace. We have always been
cheap
frugal people and this gave us more information and more of a formula to use. We really got a lot out of it - even us
tightwads
frugal people. :)
We kept thinking of getting this program for our kids. Our kids help me cut out coupons, they know they don't get everything that they want, they know that things cost money, they even helped out around the house.
Now, after implementing this program they are excited to save their money to purchase something that they want, they understand that if they don't complete their job or don't do it satisfactory they don't get paid and they get fines for behaviors that we are trying to help them prune from their lives. It is gonna be more work for me (I mean us) in keeping track of it all. Marking each job they do or every fine they get means that I have to stay on the ball. :) Hmmmm.....yeah. But they are excited and it is teaching them about money and how to use it properly! LOVE THAT! Jared wants to save up for a Nintendo DS. We talked about how long he'd have to save for a new one and that it would take awhile. So then I mentioned that maybe we could find a used one. So, if anyone has a used one they'd be interested in selling....... ;)
I wanted to add - there are some things that the kids do that they do not get paid for. It is our thought that there are things you do because you are a part of the family: like putting your laundry away....
Now, I was not paid or reimbursed for these reviews - these are my own thoughts/feelings/words. So, if you are on the look out for kids items with a meaning..... :) Hope this helps! :)
Linking at
Thrifty Decorating